INFO + DOWNLOAD
SOKOBAN LEVELS
FOR FREE
HINTS + TIPS
LINKS
SOKOBLUE RECORDS
SOKOBLUE - The next Sokoban Generation!
Do you like
Sokoban
the famous box pushing game from Japan? GAMES 4 BRAINS' latest releases "Sokoban 22" and "SOKOBLUE" are considered being the most playable box-pushing games around.
---
To play our Sokoban variant SOKOBLUE online & free, directly in the browser, click here:
---
To install SOKOBLUE or SOKOBAN 22 (new!) for Android - click below:



---


The Team presents:



What makes SOKOBLUE unique:
SOKOBLUE can be played instantly in the browser on most devices (computers, smartphones, tablets, etc.).
Your playing area will be enlarged to maximum size, so the game is playable on both small and large devices.
Choose a unique Sokoban puzzle from one of our level sets.
Control your pusher in a very convenient way by selecting box (pyramid) you want to move. You will be shown all locations within reach. Now tap on the destination field to which you want to push the box. The rest happens automatically (as seen in older SOKOBLUE versions). Alternatively, use the cursor keys to control the pusher.
When finishing a level: Your move and push records are saved separately. Your solution progress will be recorded. Use the SHOW mode to navigate through solutions. When you set a new move or push record, your old performance data is overwritten.
Enjoy more than 500 exclusive Sokoban levels in the current version. If you want more levels, keep an eye out for updates from time to time!
Compare your current solution records with our record tables! SOKOBLUE RECORDS

Or watch our SOKOBLUE video on YouTube instead:




---
SOKOFUN is still alive!


"SOKOFUN pro" consists of 3 different Sokoban-style games:
Sokoban classic
Sokolor
Sokonex
Enjoy more than 130 exclusive levels in the shareware version. Add up to 1900 unique and carefully designed levels by ordering the full version. For more information click here!

---
Sokoban - Level Of The Month
At this place we present new first-class Sokoban levels. If you have a copy of SOKOFUN (Freeware) or SOKOFUN pro (Shareware) you can download and play the levels immediately!

Attention!
GAMES 4 BRAINS owns the copyright of the Sokoban levels shown here, except otherwise indicated. You may not distribute them without a special permission of the authors!
Importing these levels into third-party programs is illegal in most cases, for important level data ( i. e. level title, author name, additional comments including hints ...) can be changed or left out!
So be sure to use SOKOFUN (Freeware) or SOKOFUN pro (Shareware) to get the levelsets without losses!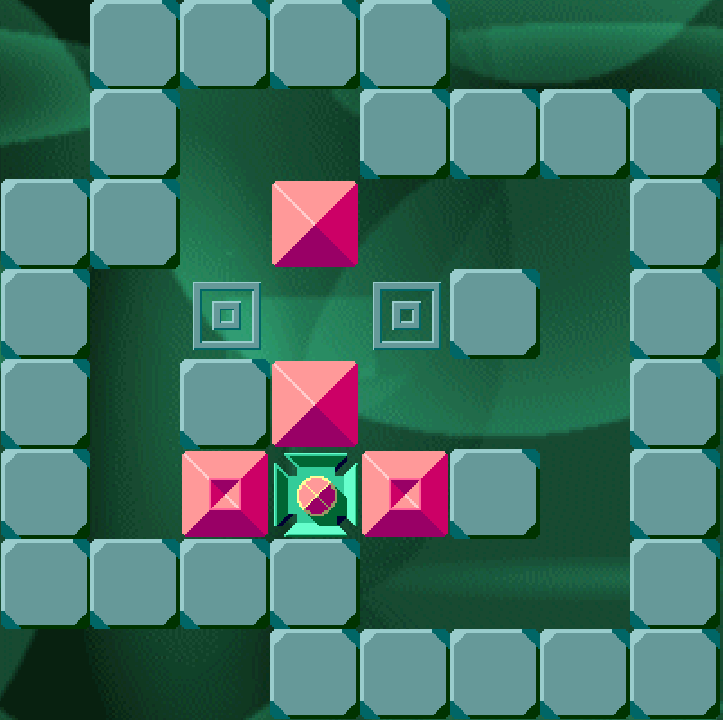 Have fun solving this small SOKOBAN riddle!
Download monthly Sokoban levelset (1kb)
Unzip (!) the file to your SOKOFUN directory!

Why not send an eMail, if you like the levels!
---
Test our favorite Sokoban versions online (Java applets)!
Since Java is not supported any longer, these applets do work on older computers only.

Show your skills with SOKOBLUE java mastering 50 easy and 50 hard levels! Add your name to the Top 10 list for each level!
Try out 50 levels of SOKOLOR!
Click on the graphics below!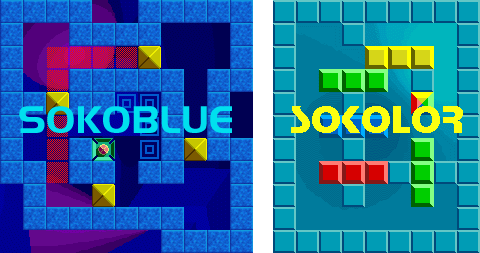 ---


is alive for more than 25 YEARS!.

Here is the full list of our official Sokoban levelsets (100 exclusive levels each) since 1995:

SOKOWAHN (c)1995 - SOKOBLUE (c)1996 - SOKOPLAY (c)1997 - SOKOMAXX (c)1998 - SOKOTIME (c)1999 - SOKOIDEA (c)2000 - SOKOGOLD (c)2001 - SOKOCULT (c)2002 - SOKOLOVE (c)2003 - SOKOSTARS (c)2004 - SOKODREAM (c)2008


---
Sokoban - Beginner Levels for free !
These 100 game screens were designed for those who get in touch with the Sokoban game idea for the first time. The stages are presented ordered by difficulty. If you are able to solve even the last screen #50, you are prepared to face the regular G4B levelsets!


Beginner levelset SOKOSTART
---
More Sokoban levels for free download can be found here!
---